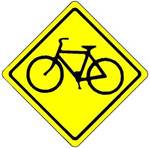 In recent years, members of the Belleville Area Bicycling and Eating Society have seen lots of violations of Illinois cycling laws on a wide range of group rides, including, unfortunately, BABES Wednesday Evening Rides. Under Illinois law, you must ride as far to the right of the road as safely possible. Riding two abreast is allowed as long as the normal and reasonable movement of traffic is not impeded. Keep in mind that it doesn't take much to impede the normal and reasonable movement of traffic on narrow country roads. Riding three or more abreast is prohibited except on bicycle paths or parts of roadways set aside for bicycles only.
In 2008, it is also the law that motorists must give at lease three feet of clearance while passing a bicycle. Bicyclists also may extend their right arms to signal a right turn.
For a breakdown of Illinois cycling laws, download this PDF file from the League of Illinois Bicyclists.