Throughout the cycling season, the Belleville Area Bicycling and Eating Society has a wide range of events. The backbone of our events are the Wednesday Evening Rides, which take place from April through mid-September. Our major fundraiser was once the Tour de Stooges, which was the first Saturday in May. We also have other rides throughout the year including our popular winery rides.
Keep track of the rides at our Ride Calendar.
The Belleville Area Bicycling and Eating Society has a Facebook Page! We invite you to become one of our Fans. You'll be able to upload photos and videos that you shoot on some of our rides, plus communicate with your fellow cyclists. Come join us today!
More about us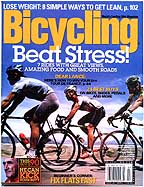 In July 2004, Bicycling Magazine included the BABES Wednesday Evening Rides in its "Bikes on the Loose" feature of great club rides from throughout the country. We were honored to be on the list.
The Riverfront Times says the Belleville Area Bicycling and Eating Society the St. Louis area's top bicycle club in its 2008 Best of St. Louis edition! In particular, we were cited for our Wednesday Evening Rides and our ocassional Donut Trail Rides in South St. Louis.
BABES maps available online
As a service to St. Louis-area cyclists, BABES ride leaders are sharing maps of their favorite routes in the metro-east. Illinois always has been a favorite destination for St. Louis-area cyclists because of its scenic, low-traffic country roads. You can download the maps on our Maps page.